'Rivervision' Custom Signage Enhances Customer Experience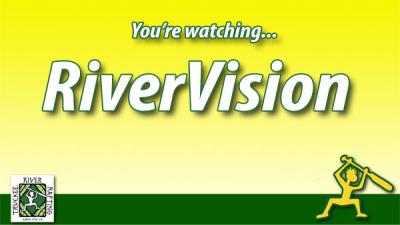 Thousands of rafters at Truckee River Rafting in North Lake Tahoe will launch their trip down the Truckee River a little more comfortable and informed this summer as a result of a new, customized Localvision® digital signage system installed recently. The system, created by local digital media specialists Destination Media Solutions, was created to provide rafters with important information and safety tips before they set out on the river.
"We're excited about this new way to communicate with our customers," says Ryan Bell, one of the owners of Truckee River Rafting. "These screens grab their attention and provide them with important information to help them enjoy their rafting trip."
The signage system, aptly named 'RiverVision', includes two screens located at the company's registration desk and raft launch staging area. On-screen information includes video and graphic screens with rafting instruction, safety messaging, helpful tips about what to wear and bring, as well as notices about environmental concerns and keeping the river clean. In addition, the signage allows the company to incorporate sales messaging to remind customers to view their raft photos and consider purchasing Truckee River Rafting merchandise.
"Customized digital signage is an amazingly effective way to communicate with visitors and guests," commented Eric Brandt, DMS President and the system's designer. "It's always there yet unobtrusive, provides useful and valuable information, and is also environmentally friendly, with no paper or other waste."
Destination Media Solutions' Localvision® information systems are being rolled out at a other locations around North Lake Tahoe and Truckee, including visitor centers and a variety of other high-traffic businesses.