New HD Webcams offer Spectacular Views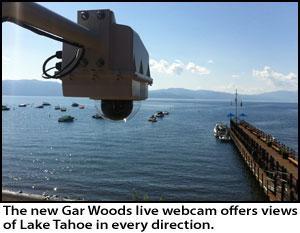 Destination Media Solutions recently launched two new live streaming HD webcams, providing spectacular views to website, mobile and visitor channel viewers.
Tahoe TV/Tahoetopia.com recently completed a significant upgrade to the already popular webcam at Gar Woods Grill & Pier in Carnelian Bay. In addition, the Monterey Visitor Channel has launched the brand new Monterey Bay webcam, now live, at A Taste of Monterey, a wine tasting room and visitor center located on Monterey's famed Cannery Row.
The new cameras provide HD quality live streaming video, and dramatically improved views in every direction along the Carnelian Bay shoreline and Gar Woods' lakeside patio, and up and down the waterfront along Cannery Row, including the Monterey Bay Aquarium.
The Gar Woods webcam installation was completed just in time for the annual Concours d'Elegance Wooden Boat show, held August 9-10, next door at Sierra Boat Company, and allowed viewers from around the world to watch as numerous classic and historic wooden boats cruised in and out of the marina.
"This is one of our best live cams yet," says Eric Brandt, President of Destination Media Solutions, who installed the camera. "Every week, thousands of people from all over the world are looking at it to check out the views of Lake Tahoe from Gar Woods."
View the Gar Woods webcam on Tahoetopia.com.
In Monterey, where few viable webcams exist, the new camera provides a heretofore unavailable perspective of Cannery Row and the Monterey waterfront, with views of kayakers, sailboats and whale watching boats and sightseers, as well as a variety of wildlife, including whales and seals.
View the Cannery Row webcam on MontereyVisitor.tv.
Destination Media Solutions owns and operates a growing digital media network including Tahoe TV, the Lake Tahoe Visitor Channel, Lake Tahoe App, and Tahoetopia.com, and the Monterey, Carmel and Santa Cruz visitor channels. The Gar Woods and Monterey webcams are just two of numerous webcams the company operates. Additional webcams coming soon include one at Rocky Point Restaurant, south of Carmel.
"Our network of scenic and traffic webcams in Lake Tahoe delivered over 11,000 hours, or a year and a half, of live streaming views, and tens of thousands of page views in the month of July," Brandt added. "We're actively engaging with people around the world who love, or are interested in Lake Tahoe."