While digital media gets a lot of attention, and is critical to a marketing mix, print media is still an important part of any destination visitor-focused marketing effort. Destination Media Solutions has partnered with a giant of print distribution,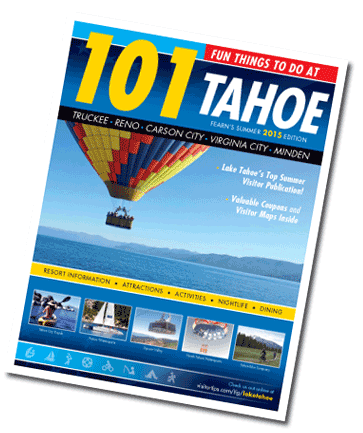 Certified Folder Display Co. (known for their expansive rack card distribution across the western U.S.) to publish two of the longest-running most effective visitor publications in the Lake Tahoe/Reno region.
101 Fun Things To Do At Lake Tahoe
With over 300,000 copies in distribution every summer, 101 Fun Things To Do At Lake Tahoe is the "go-to" publication for visitors. Centered around a detailed, full-page map of Lake Tahoe, this publication is a well-used and proven guide for visitors and something that they keep with them throughout their stay. It also delivers high-visibility advertising value for local and regional businesses of all sizes, from world-class resorts and hotels, to local restaurants, shops and attractions.
101 Fun Things To Do At Lake Tahoe is published each May, and distributed through October.
For more information, click here for advertising information and to download a Media Kit.
SKI TAHOE
The 'seasonal sister' publication to 101 Fun Things To Do In Lake Tahoe, SKI TAHOE brings all the same broad distribution and appeal to winter visitors, with a focus on the Lake Tahoe region's vast and unequalled concentration winter sports and recreation attractions.
SKI TAHOE is published each November, and distributed through April.
For advertising information and to download a media kit, click here .